If your Central Florida home has a septic tank, here are a few things you should know. Most of the septic system is located out of sight and underground, making it difficult for the homeowner to know where all the components of the system are located or if there is a problem.
To keep your septic system performing like it should, you need routine inspections and septic pumping.

 
The EPA tells homeowners their septic system is an investment worth protecting.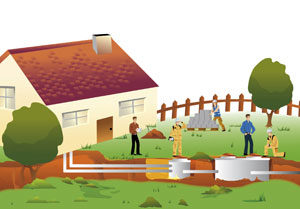 A key reason to maintain your septic system is to save money! Failing septic systems are expensive to repair or replace, and poor maintenance is often the culprit. Having your septic system inspected regularly is a bargain when you consider the cost of replacing the entire system. Your system will need pumping depending on how many people live in the house and the size of the system. An unusable septic system or one in disrepair will lower your property value and could pose a legal liability.
Septic system inspection: Having your system inspected is vital for catching small issues before they become costly problems.

 
Some of what an inspector will be checking for include:
Determine the level of sludge in the septic tank, which should not rise up to the baffles or occupy more than 1/3 of the tank volume. This determines if the tank needs to be pumped. Also, they will need the date the last time it was pumped.
Ensure the septic tank is watertight, ground water should not be able to enter the tank.
Check to see the ground surface contains any liquid waste, contamination of the soil poses many serious health issues.
Inspection of the drain lines to ensure all wastewater is being equally distributed. The riser and lid are secure and free of any cracks.
Baffles are operating properly and pipes are firmly connected.
Drain field repair

 
Just like everything else, the piping system in your drain field can break down. If the water isn't able to drain properly, it will cause the septic tank to fill faster than it should and contaminate the soil. 
Septic tank pumping

 
The key to a long, healthy life of your septic system is routine maintenance. Postponing this simple step can wreak havoc on the entire system. 
Septic tanks need to be pumped out every 1 to 3 years under normal conditions, depending on the number of people in the home. Parts and filters may need to be replaced, they will make the septic system run more efficiently and extend the life of the system.
The small price of pumping the tank can avoid the thousands of dollars on repairs, many of which could have been prevented. If you're experiencing issues with your septic system, waiting usually makes the problems worse. Regular maintenance and inspections can prevent failures and save you a ton of money in replacement and repairs.
If you're having a problem with your septic system, whether residential or commercial, don't hesitate to contact Orlando Septic Services. We are here o help you with all your waste management needs!
Save Money With Our Coupon
Take advantage of Orlando Septic Service valuable coupons and save money on the next time you need to have your septic tank pumped.