Does your Central Florida home have a septic system? When was the last time you though about pumping the septic tank?
The EPA warns homeowners that their septic system is a big part of their home and is their responsibility 
Don't wait until you have issues with your septic system. Protect your home investment and avoid costly replacement – call a licensed septic tank contractor today.
Have your septic tank inspected and pumped out by a licensed septic tank contractor as needed (on average every three to five years).
Protect your system by practicing simple  Septic Smart Quick Tips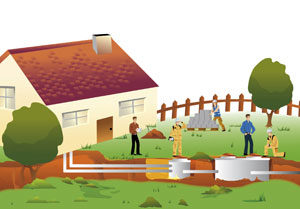 Don't strain your drain: Use water efficiently and stagger use of water based appliances (such as a washing machine) to avoid back up of your septic system into your house.
Keep it clean: If you have a well, many things can contaminate your drinking water, such as a failing septic system. Test your well water regularly.
Shield your field: Tree and shrub roots, cars, and livestock can damage your drain field.
Protect it and inspect it: Regular septic system maintenance can save homeowners thousands of dollars and protect public health.
Don't overload the commode: A toilet is not a trashcan. Disposable diapers and wipes, feminine hygiene products, cigarette butts, cat litter and much more can damage your septic system.
Pump your tank: Ensure your septic tank is pumped at regular intervals as recommended by a professional and/or local permitting authority.
Protect your investment and avoid a messy situation
The small price of pumping the tank can avoid the thousands of dollars on repairs, many of which could have been prevented.
Orlando Septic Service, a full resource for all your septic and waste management needs.  We are committed to providing the very best quality and customer service.  Thanks to our decades of experience we can handle the most difficult sewer situations without a problem. Orlando Septic Service is an environmentally friendly company serving Central Florida for 23 years. We are a licensed septic contractor certified with the State of Florida.  Earning our reputation as an honest and reliable waste management business in the Seminole and Orange County areas.
Orlando Septic Service is a company you can trust with all your waste management needs.