Many homes here in Central Florida rely on a septic system to remove and treat wastewater from their home.  It's easy to turn on the faucet or shower and never think twice about where all that water is going. 
All the wastewater ends up in the septic system, but where does it go from there? How is it affecting your drinking water? The EPA explains the importance of maintaining your septic system and having your tank pumped regularly.
Bathrooms and Kitchens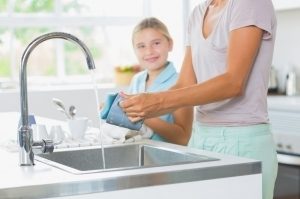 Water from toilets, sinks, showers, and other appliances is called wastewater and can be harmful to human health. Wastewater contains harmful bacteria, viruses, and nutrients that could make you sick if it comes in contact with your drinking water well. Make sure the wastewater is properly treated by your septic system and that your drinking water well is located at the appropriate distance (set back) from your and your neighbor's system. Avoid flushing other chemicals or medications down the drain or toilet since they could also contaminate your drinking water well.
Septic Tanks
Wastewater generated in your home exits through a drainage pipe and into a septic tank. The septic tank is a buried, water-tight container that holds wastewater for separation and treatment. The solids settle to the bottom (sludge) and fats, oil and grease float to the top (scum). Microorganisms act to break down the sludge and destroy some of the contaminants in the wastewater. Your septic tank should be serviced and pumped on a regular basis to make sure it's working properly.
Drainfield
The drainfield is a shallow, covered trench made in the soil in your yard. Partially treated wastewater from the septic tank flows out through the drainfield, filters down through the soil and enters the groundwater. If the drainfield is overloaded with too much liquid or clogged with solids, it will flood and cause sewage to surface in your yard or back up into your home.
Wastewater Treatment in Soil
Filtering wastewater through the soil removes most bacteria and viruses (also known as pathogens) and some nutrients. While soil can treat many contaminants, it cannot remove all of them (e.g., medicines, some cleaning products, other potentially harmful chemicals). If untreated wastewater surfaces in the yard, wastewater may contaminate your drinking water through an unsecured well cap or cracks in the well casing. It's important to avoid flushing medication and chemicals into your wastewater since it could contaminate your drinking water.