This is the time of year we all need to make sure our septic system is in good working order. The rainy season is almost here, all that water only exasperates small septic issues and turns them into big messy problems. 
When there is a lot of rainfall, the soil absorption area or the drainfield can easily become saturated. Unfortunately, this hinders your septic system, making it hard for water to move out of the tank into the drainfield. Water becomes trapped and can end up backing up into your home through plumbing pipes, drains and toilets. This untreated sewage can also contaminate the groundwater. 
There are a few Tips to take to avoid a messy situation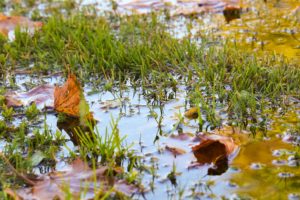 Before the rainy season begins, make have your septic system inspected and make sure it is up to date on pumping the tank.  
Make sure any water runoff is directed away from the drain field. This helps the soil from getting over saturated. 
Ensure only grass is planted above or near the drain field.
Avoid driving any type of vehicle over the drain field. This can compact the soil and compromise the drain field's ability to properly process the wastewater. 
Look for these signs during the rainy season
If it has been raining every afternoon you may experience toilets making gurgling sounds after you flush them, drains running slow, or water puddling over the drain field.  If so, try and reducing water usage by taking shorter showers, do less laundry, and only run the dishwasher when it is full, to reduce the pressure on the drain field.
Don't let the rainy season havoc on your septic system. Just by having your system properly maintained , inspected and the tank pumped before the rainy season sets in can save you a ton of money and frustration!  
Contact Orlando Septic System, we provide a full resource for all your septic tank and waste management needs. We are committed to providing the very best quality and customer service. Orlando Septic Service is an environmentally friendly company serving Central Florida for 23 years. We are a licensed septic contractor certified with the State of Florida. Earning our reputation as an honest and reliable waste management business in the Seminole and Orange County areas.