Whether you own a home in Central Florida with a septic system or going to buy or sell one, inspections are the easiest way to save money and avoid a lot of headaches. Take advantage of Orlando Septic Service First Time Client Discount and coupon for Veterans and Seniors.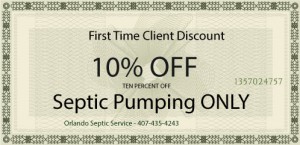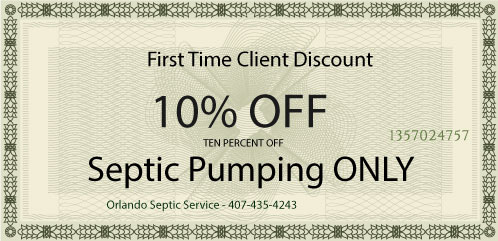 A quality inspection is a great way to avoid issues that arise before they end up costing thousands of dollars in repairs, not to mention replacement.
Septic systems are one of a home's biggest investments. Regular inspections ensure the system is operating efficiently, prevent failure. Which can cause disease causing organisms to leak and endanger the family living in the home, as well as their neighbors.
An inspection will also determine how full the tank is and if it needs to be pumped out.
There is much more to your septic system than just the tank.
Pipes and Filters: It all starts when waste water enters a series of pipes that go from your home through a filtering process and then into the septic tank.
Tank: Not all septic tanks are they same, they come in a variety of capacities, shapes and sizes. Unfortunately, it doesn't take much to disrupt the delicate balance of enzymes and bacteria necessary for a healthy system to break down waste.  It also has a network of filtration.
Drain Field: This component is composed of several permeated pipes which filter water travels to a bed of gravel and then into the ground.
Soil: The soil may not seem like a big part of the septic system, but this management process is very important. Gray water is filtered into the soil and back into the ground water. If the other components are not working properly, the soil can become contaminated.
A septic system inspection ensures all the parts are working properly. Repairing a small problem now, can save you thousands of dollars down the road.
The Orlando Septic Service has been serving Central Florida residencies for decades. We stand behind our work, we also match any written contract, and have great money saving coupons!