Last week we talked about the importance of maintaining a grease trap for any Restaurant, Cafe, or commercial kitchen in Central Florida. Any type of cooking leads to accumulated waste in the grease trap. Which inevitably can lead to backups, sewer blockages, safety issues, and costly fines.
Good Rule of Thumb When It Comes to Grease Traps
An important rule to flow is the 1/4 Rule, and also recognized as standard when it comes to grease traps.  Whenever your grease trap is 1/4 full of FOG, it is not longer effective and needs to be cleaned.
It Is Also Important to Watch Out for These Warning Signs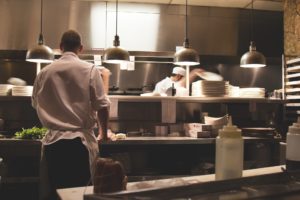 Slow Drains
When drains become slow, it is a good sign the grease trap is having trouble.  It can affect the entire restaurant. Grease accumulates in the trap making it difficult for water to drain. Bacteria and odors can start to form, and then you are in for a real mess!
Foul Odors
The last thing you want in your establishment an unpleasant smell. It doesn't take long for grease, oil, fat, or food waste to generate an foul odor. This type of stench doesn't take long to permeate the entire building.  Let's face it, nobody wants to eat at a restaurant smelling like that!
There is also the issues of hygiene and expensive fines.  You want to ensure your restaurant runs as smoothly as possible, but we understand it gets busy and things can be overlooked.  Which is why cleaning your grease trap should be left up to the professionals at Orlando Septic Service. We handle the whole process, dispose of all waste properly, and keep you on schedule.
"Grease traps/interceptors and oil/water separators must be completely pumped out and cleaned at least once every 90 days. In addition, grease traps must be inspected (and excessive solids, fats, grease, and oil removed) at least once every 7 days." According to the Orange County Government.
How is the grease trap cleaned?
When you make an appointment with Orlando Septic Services, our professional technician comes to your business with all the proper equipment to remove all the solids from the grease trap box. A powerful vacuum takes up all the waste in the grease trap, it then goes into our truck for removal.