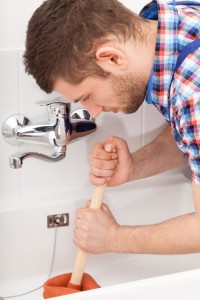 Ugg, it happened again. Whether it is the bathtub backing up, gurgling sounds coming from the toilet, slow drains, or that sewage odor, it can be very frustrating.
If you've had to endure any of these situations, you know it isn't fun. Unfortunately, the problem doesn't go away on its own. In fact, it is usually your septic system warning you of a bigger problem.
Your first line of defense is to have the name of a reliable septic service on hand. One you know is honest and dependable. Who won't take advantage of your situation.
It may be as easy as having the septic tank pumped out. A full septic tank can wreak havoc on your home. Safely removing the solid waste and inspecting the system can ensure the system is working properly.
If not pumped out or maintained on a regular basis, it can jeopardize the drain field and ground water, something you definitely don't want to deal with! The drain field is the most expensive part of the structure and when it is compromised it may have to be dug up and replaced.
If you suspect an issue with your septic system, the sooner you address it the better, and less impact on your wallet.
Protect your investment! The small price of pumping the tank can avoid the thousands of dollars on repairs, many of which could have been prevented.
Orlando Septic Service, a full resource for all your septic and waste management needs.  We are committed to providing the very best quality and customer service.  Thanks to our decades of experience we can handle the most difficult sewer situations without a problem. Orlando Septic Service is an environmentally friendly company serving Central Florida for 23 years. We are a licensed septic contractor certified with the State of Florida.  Earning our reputation as an honest and reliable waste management business in the Seminole and Orange County areas.
Orlando Septic Service is a company you can trust with all your waste management needs.